▸
▸
Structure of the PPN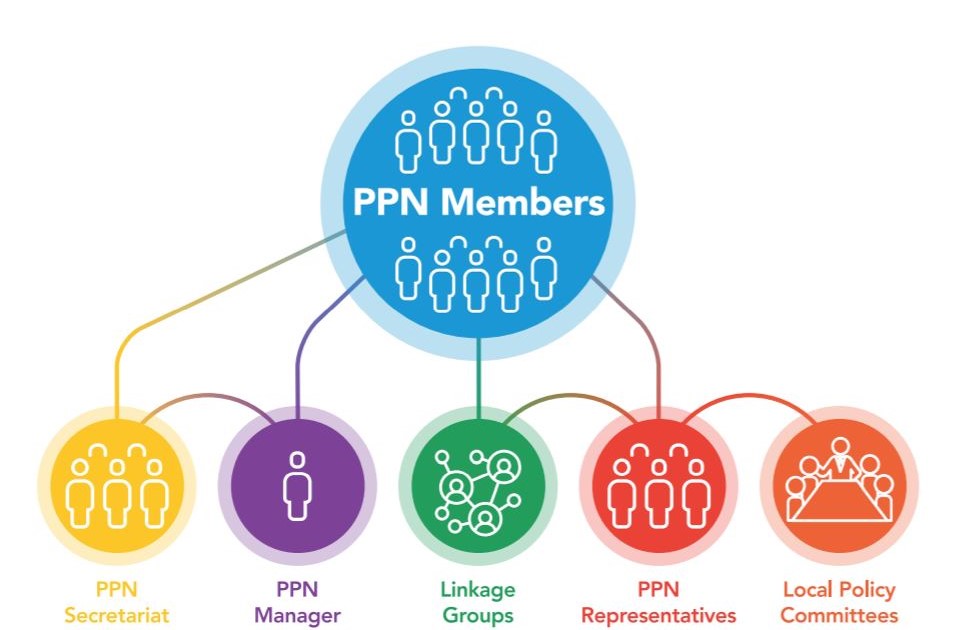 Dún Laoghaire-Rathdown PPN is a "flat" structure (i.e. all members have an equal voice) and is composed as follows:
Plenary:
The PPN membership is called the Plenary. The Plenary is the overall decision-making body of the PPN. All members have an equal say on the business of Limerick PPN. The Plenary usually meets twice a year at the Plenary Meeting.
Secretariat:
A group of people elected by the Plenary who manage the PPN on behalf of the PPN membership. The Secretariat is helped by a Resource Worker and Support Worker who are answerable to the Secretariat.  Read about the Secretariat.
Linkage Groups:
Linkage Groups are networks of PPN member groups/organisations who share a common interest in themes such as housing, transport, tourism, planning, sport and recreation, culture, environment, social inclusion, rural development and so on.  Read about Linkage Groups.
PPN Representatives & Local Policy Committees:

Members of DLR PPN can elect other members to act as representatives of the PPN on different local government committees.  The role of these representatives is to represent the issues of DLR PPN members on a particular Board or Committee and to bring forward these issues to the committee for their consideration. DLR PPN representatives can also put items on the agenda of the committee.  Read More
PPN Manager:
The Network Manager is a full-time employee of the PPN. The PPN manager works under the direction of the Secretariat and develops and co-ordinates the activities of the PPN. If you have questions about any aspect of Dún Laoghaire-Rathdown PPN, contact the Network Manager, Simone Sav.
PPN Support Worker:
The Support Worker is a part-time employee of the PPN. The PPN Support Worker works under the direction of the Network Manager and helps develop the activities of the PPN.
Data Protection Officer:
The Network Manager, Simone Sav is currently the designated Data Protection Officer. For all enquiries about how your data is processed, please get in touch at enquiries@dlrppn.ie