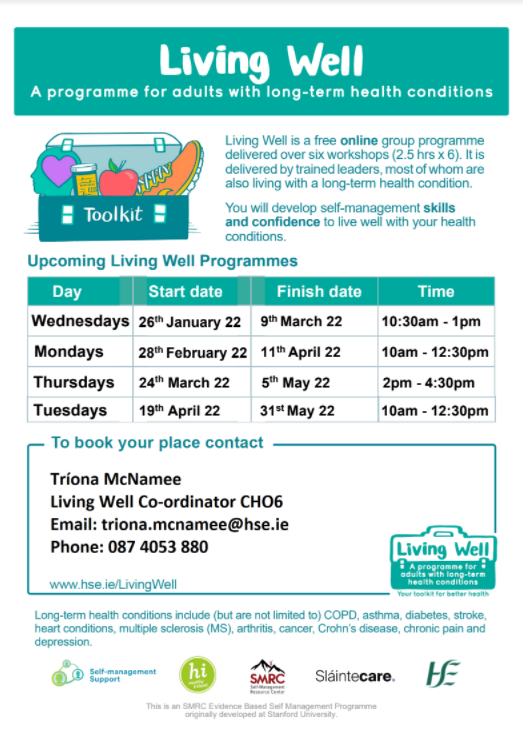 What is Living Well?
Living Well is a free, peer-led group self-management programme for people with long-term health conditions. It supports people to develop the skills which help them to live well with their long-term health condition(s).  It is an evidence based programme originally developed at the School of Medicine, Stanford University in California and is used worldwide.
Who is the programme for?
The programme is for adults 18 years and over
who are living with one or more long-term health condition

caring for someone with a long-term health condition(s)
How is the programme delivered?
The programme is usually delivered in a face to face classroom setting but due COVID 19, the programme is currently delivered online.  Support is given to assist people to go online, if this is required.
The Living Well Programme consists of:
6 workshops – one per week, for two and a half hours for 6 consecutive weeks

An extra introductory workshop to assist participants to use the digital platform

Delivered by 2 trained tutors at least one of whom is living with a long term health condition

A maximum of 12 participants attending the online workshops
                  People with different health conditions attend the workshops together.
What do participants say about the programme?
'I came away from this programme, and I feel that I can speak for the rest of the my fellow  travellers in our group, informed on how to better care for myself mentally and physically and armed with tips, tools and strategies to help me care for myself.'           
'The warmth and support together with the friendly and informed leadership on the programme would be a great asset at any time, but was particularly welcome and meaningful during covid-19:- isolation is so common when you live with a chronic condition…'
For more information about Living Well  and to enrol contact Triona McNamee, Living Well Coordinator CH06 by email triona.mcnamee@hse.ie or go to www.hse.ie/livingwell