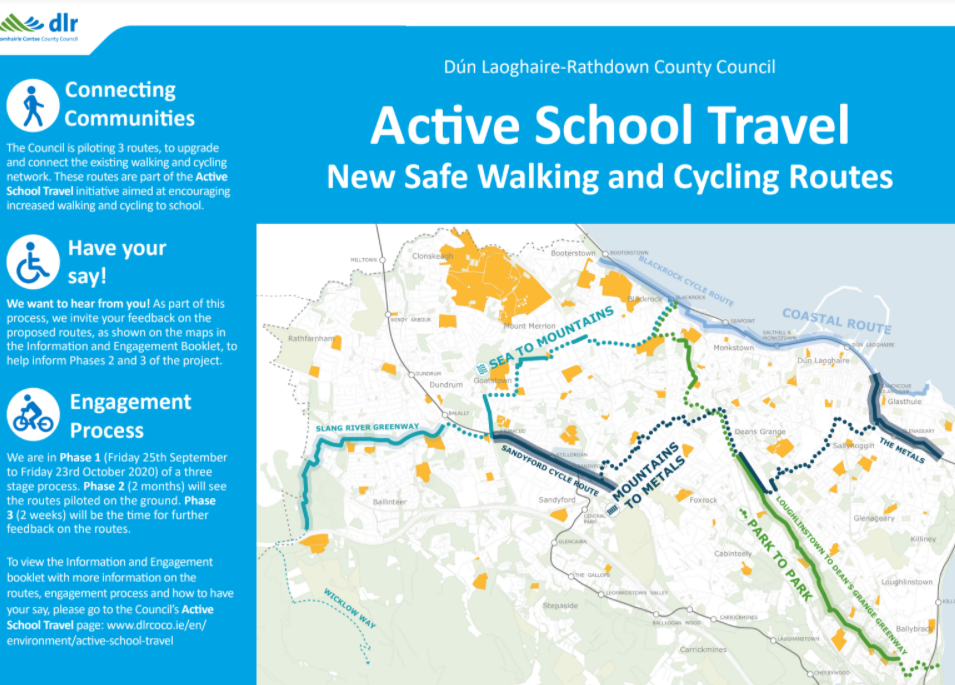 Consultation Deadline Extended to  5pm on Friday 6th November 2020.
Dún Laoghaire Rathdown County Council launches engagement on New Safe Walking and Cycling Routes
As part of the Active School Travel initiative launched in August 2020, the Council has now launched public engagement on three new pilot routes, to upgrade and connect the existing walking and cycling network in the County. These new, consolidated routes totalling approximately 20 kilometres in length, are aimed at encouraging increased walking and cycling to school, and for wider use by the general public.
Maps and a description of the three pilot routes are included in the attached Information and Engagement Booklet. A Frequently Asked Questions (FAQ) document is also attached for your information.
The Council are seeking views and feedback from the public to help inform Phases 2 and 3 of the project. This current public engagement stage (Phase 1) is taking place from Friday 25th  September up to and including Friday 5th November 2020. To see the booklet, please click here.
Feedback can be given in the following ways:
Online:
Use the dlr Consultation Hub available at:
Post:
Active School Travel Project,
Infrastructure and Climate Change Department,
Dún Laoghaire Rathdown County Council,
County Hall,
Marine Road,
Dún Laoghaire
The closing date for receipt of submissions is Friday 23rd October 2020.