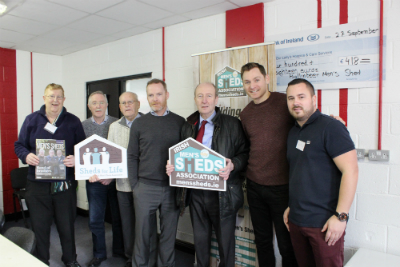 On Wednesday, 21st February, the Ballinteer Men's Shed welcomed one of Ireland's foremost athletes of recent years to its 'shed' in Meadowbrook.
The newly appointed Irish Men's Sheds Association ambassador and Ballinteer native, David Gillick, dropped in to meet members of his local Men's Shed ahead of his Westport Gran Fondo Cycle and offer his support to the men's sheds movement.
The Westport Gran Fondo is a one day cycling event and is the first of its kind in the Republic of Ireland. Gillick was joined by Irish Men's Shed Association CEO Barry Sheridan on Wednesday morning in Meadowbrook and was delighted to announce that 5 euro from every entry fee to the Gran Fondo on 14th April will go to the Irish Men's Sheds Association.
Speaking from Ballinteer Men's Shed, founder and secretary Sean Mc Loughlin said; "Since establishing the Ballinteer Men's Shed in April 2017, we have received plenty of support from within the community and beyond today is another step forward for the Ballinteer Men's Shed and its members.
With the number of men attending the Ballinteer Men's Shed increasing, it shows how important having a local men's shed really is, providing a safe and comfortable environment for men is great but maintaining the wellbeing of those men and breaking the barrier of isolation in our community through social inclusion is absolutely fantastic.
Today was a brilliant day for all involved, as the CEO of the umbrella organisation, the Irish Men's Sheds Association, Barry Sheridan visited our shed for the first time and we are looking forward to networking with both himself and David Gillick in the near future.
The Ballinteer Men's Shed meets every Tuesday in Dundrum FC Clubhouse, Meadowbrook from 2:00pm – 4:30pm and is open to all men, regardless of age, ability or background. It will also be opening on a second day, every Thursday, from April 12th from 10:30am – 1pm to accommodate more members.
Ballinteer Men's Shed will be having an open day on Tuesday April 10th, at Dundrum FC Clubhouse, Meadowbrook from 2:00pm-3:00pm.