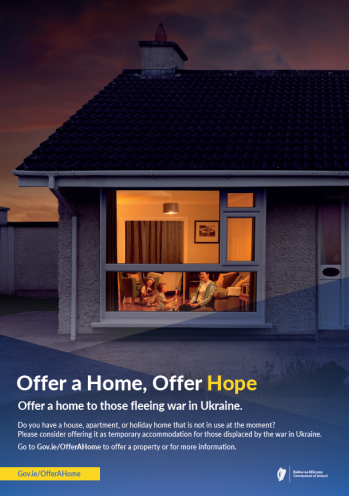 Dun Laoghaire Rathdown County Council is joining with other local authorities to lead a new appeal for offers of unoccupied properties to provide temporary homes for those fleeing war in Ukraine.
The call is part of a new government initiative, led by local authorities, to make use of unoccupied houses, apartments or holiday homes to house Ukrainian people and families.
A tax-free recognition payment of €800 per month is available for properties used to house those arriving from Ukraine. This payment rate applies from December 1st, 2022.
More than 60,000 people have arrived in Ireland from Ukraine seeking safety, the vast majority need accommodation.
Under a new programme, DLR will take offers of houses, apartments or holiday homes for temporary accommodation, liaise with owners to assess suitability, and arrange for their use by Ukrainian people and families. Property owners can offer homes at offerahome.ie or by contacting the local authority in which the property is located.
Those who offer a property can expect to be contacted by the local authority within 5 working days of making their offer and an assessment of the property will be carried out by the local authority shortly after. The assessment is to ensure the property is habitable and to get some details so it can be matched to the most appropriate person or family.
Anybody who offers a property can check their offer's status at any stage through the website offerahome.ie.
This is a call for stand-alone properties that are not occupied by others. Properties should be in livable condition and, ideally, available for at least 6 months.
While rent will not be payable to those who offer properties, a tax-free recognition payment of €800 per month is available from the Department of Social Protection to those who offer accommodation to Ukrainians.