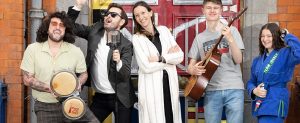 Now in its 12th year, the Coca‑Cola Thank You Fund was set up in 2011 to mark the 125th anniversary of the company. Over the years, the Coca‑Cola Thank You Fund has supported projects including community, social and education programmes aimed at youth, healthy and active lifestyles and environmental leadership. To date €1,255,00 has been given to 121 non-profit organisations across the island of Ireland.
What is this year's theme?
In 2022, the Fund will focus on one overall theme – Investing in Sustainable Communities – enabling everyone to live in a community where economic and environmental sustainability as well as social equity is at its heart. The Fund will help to nurture a generation of change champions who will help to shape, create and maintain sustainable communities for the benefit of all.
Within this theme, the Fund is seeking applications which fall under one or more of the following three categories:
1.    EDUCATION – Educational, Training, Resilience, entrepreneurship programmes for young people
2.    DIVERSITY & INCLUSION – Programmes that support Diversity & Inclusivity and social equity among young people
3.    CARE FOR THE ENVIRONMENT – Programmes that encourage and support young people to care for and protect the environment
How will the Coca‑Cola Thank You Fund be allocated in 2022?
In 2022, Coca‑Cola Thank You Fund grants totalling €100,000 will be awarded to charities, community and voluntary organisations, sporting groups and NGOs seeking funding for initiatives that support and inspire young people (16-25 years old) to develop the skills they need become change champions focused on the creation of sustainable communities. The Fund judging panel will determine the division of the funding. The Fund's application form facilitates entrants in selecting which funding amount is most suitable for their project – €5,000, or €10,000.