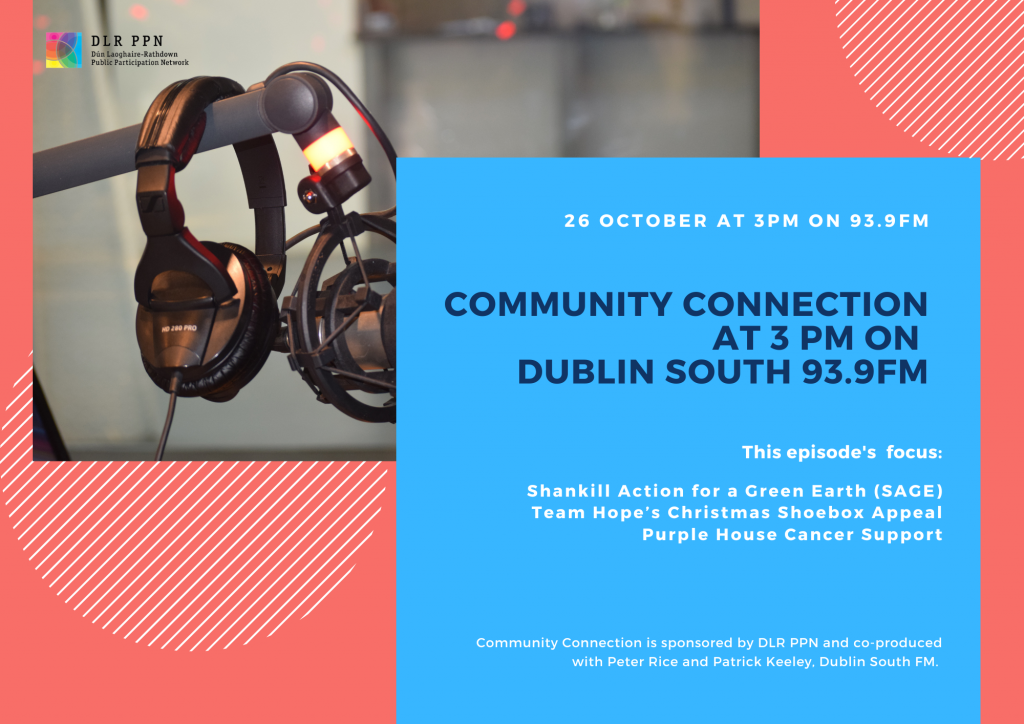 Tune in to Dublin South FM 93.9FM today at 3 pm for Community Connection!
This month's episode of Community Connection will be broadcast today 26th October 2022 at 3pm on Dublin South 93.9fm and repeated on Thursday at 4pm. Featured in this month's episode:
Shankill Action for a Green Earth (SAGE) – was set by Patrick & Kathie Davey in 2015 as a community network whose aim is to take action on climate change and promote local, community-based solutions to the climate crisis Patrick Davey joins us to update on their progress.
Team Hope's Christmas Shoebox Appeal – an annual campaign that delivers gifts straight into the hands of children affected by poverty. Since 2010, they have delivered over 2.1 million Shoebox gifts to Vulnerable Children across the world. Jonathan Douglas from Team Home joins is to tell us more about this year's appeal.
Purple House Cancer Support – a non-profit organisation aimed at helping people affected by cancer, was set up in 1990. The main hub of Purple House is their Cancer support Centre in Bray but there is also Purple House@Home and Outreach Cancer Support Clinics in The Lexicon Library. Conor O'Leary provides further details
Community Connection is sponsored by DLR PPN and co-produced with Susan Kane and Patrick Keeley, Dublin South FM and Colette Downing of the DLR PPN.