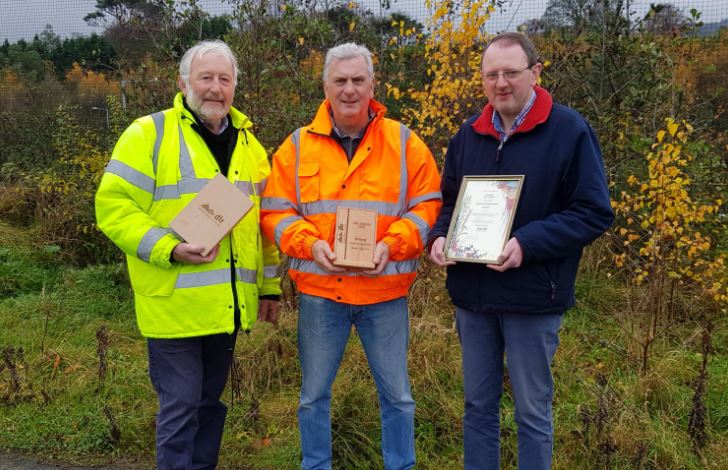 Congratulations to Shankill Tidy Towns for winning the 2019 Climate Change Award in the recent Dún Laoghaire-Rathdown County Council (DLRCC) Tidy Districts competition. The award was for their ambitious "Trees for All" project – an initiative commenced in 2012 to plant one tree for every resident in Shankill. In co-operation with Crann – Trees for Ireland, DLRCC Parks Department, Coillte and the local community the planting target (13,910) was achieved in 2016 and now today more than 17,500 trees have been planted in the environs of Shankill.
The objective of this undertaking was to help offset the carbon emissions of the community and to contribute positively to Ireland's greenhouse gas abatement strategy outlined in the National Mitigation Plan. It also augmented DLRCC's nature-based climate change solutions by the increased carbon sequestered by the planted trees.
It is hoped that this scheme will become a nationwide initiative that Tidy Towns and PPN groups elsewhere will emulate in future years. The trees will also help contribute to the conservation and enhancement of biodiversity in the Shankill area and with this in mind the group is setting up a local nursery as a tree conservation gene pool for future generations.
The "Trees for All" project itself has the benefits of community engagement and co-operation and is helping to foster a sense of belonging, ownership and pride in Shankill. It offers an opportunity for all to volunteer and get involved in a worthwhile, positive and green initiative. It is about people in the community taking action today to combat the adverse impacts of climate change. This will
establish a positive link between the community and our environment – creating a thriving carbon sequestering and biodiverse landscape, enriched with abundant flora and fauna.