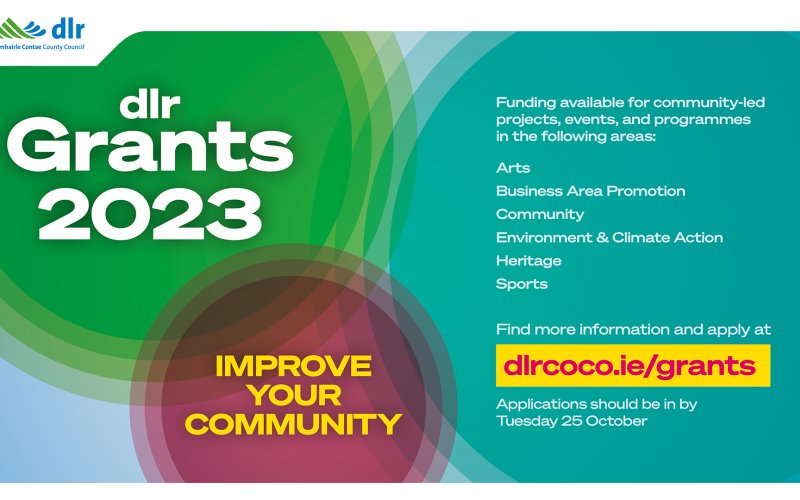 Do you have an idea for an event or a project, big or small, that could benefit your local area in arts, business area promotion, community development, environment, heritage or sports? Your project could make a difference to the well-being and quality of life of the people in your local neighbourhood.
DLR Grants 2023 provides funding to individuals, groups and organisations engaged in projects, events or initiatives at a neighbourhood or County level within our area, with a particular emphasis on supporting locally driven and grass roots initiatives. Grant funding is available for art projects, community-led initiatives, local business area promotion, sports development, local heritage and environmental protection.
Speaking at the opening of dlr Grants 2023, An Cathaoirleach of Dún Laoghaire-Rathdown, Councillor Mary Hanafin, said:
DLR Grants is of real assistance to community groups and local people with innovative projects and events in a wide variety of fields and pursuits. I have seen first-hand in my daily work the benefit it brings to our communities. I would recommend anybody in the DLR area, who thinks that some aspect of their community could benefit, to consider applying for grant funding through the scheme.
Frank Curran, Chief Executive of Dún Laoghaire-Rathdown County Council, said:
DLR Grants 2023 offers a great opportunity to help community groups and local people implement a wide variety of events & projects. We awarded over 500k in funding to community-led projects last year which has assisted them to grow and develop.
In order to ensure good governance and transparency there are a number of general guidelines that refer to applying for the grants and some additional guidelines around specific grant categories. This helps ensure that the Council is supporting the very best in the development of our communities.
For further details,
please see the full 2023 Community Grants Guidelines here.
Eligibility
Please ensure you have read the Grant Scheme Guidelines, which set out the terms and conditions for payment and qualification for funding under each grant category, in full.
Click here for a copy of the guidelines, or request a copy by e-mail – at grants@dlrcoco.ie or by phone – at 01 204 7966.
The closing date for submissions is Thursday 25th October 2022 at 17.00
No late applications will be accepted.