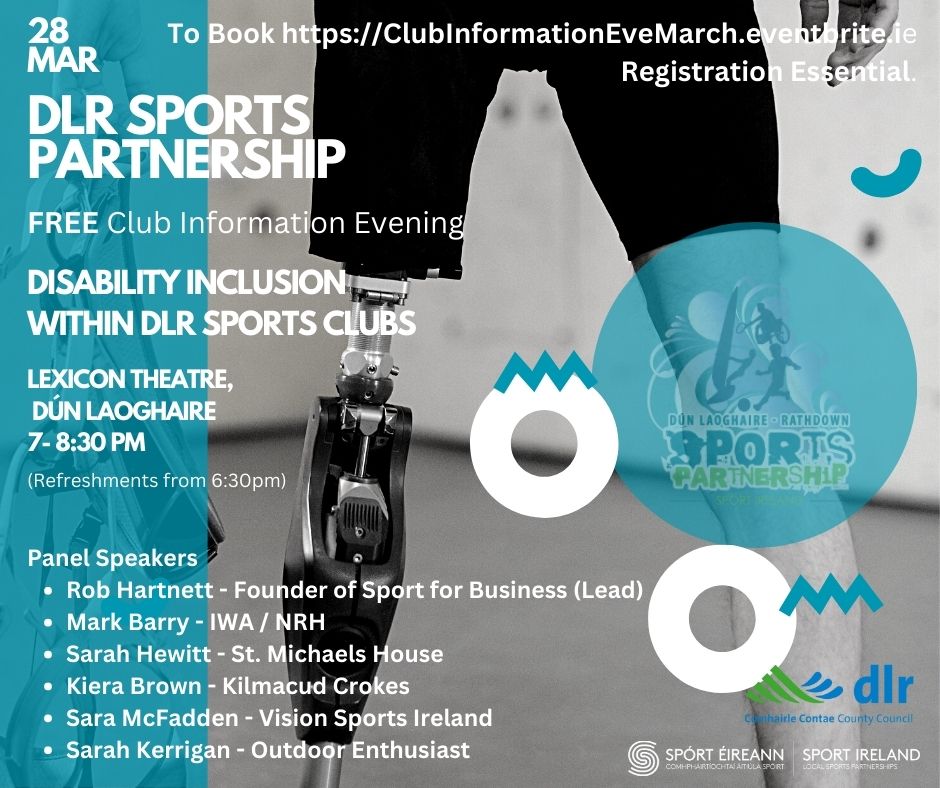 Dun Laoghaire Rathdown Sports Partnership Information Evening
March 2023    Press Release 14.03.2023
Free Information Evening for DLR Clubs discussing the topic of 'Disability Inclusion Within Sports Clubs'
Inclusion of all abilities is an integral part of many sports club in Dún Laoghaire Rathdown who actively encourage and welcome people with all abilities through their doors. Sport and activity is for everyone, it improves physical and mental wellbeing, but it is also an important link to community connection. It provides the opportunity to make new friends, to volunteer, to develop leadership and coaching skills. DLR Sports Partnership works towards making every club and facility open and accessible to everyone in our community, especially those with additional needs.
The next Information Meeting of Dun Laoghaire Rathdown Sports Partnership for local Clubs is taking place from 7.00pm – 8.30pm on Tuesday 28th March in The Lexicon, Dun Laoghaire. There will be a panel of experienced people from a variety of different sporting backgrounds to discuss their experience on the topic of 'Disability Inclusion within Sports Clubs'.
The panel will discuss the options local clubs have to positively and meaningfully provide opportunities for people with disabilities to take part in sport and physical activity.
How to help develop and improve their structures/ environmental barriers to embed a positive ethos of inclusion within their club. Also, being discussed are the supports and grants that are available.
Rob Hartnett– Founder of Sport for Business will lead the discussion with the following panellists.
Sara McFadden – Vision Sports Ireland.
Keira Brown- Kilmacud Crokes
Sarah Kerrigan – Outdoor Enthusiast
Mark Barry – Irish Wheelchair Association
Sarah Hewitt – St Michaels House
Shane McArdle- Coordinator DLR Sports Partnership commented 'There is an ongoing challenge we are seeing within the community, where people with disabilities are not always able to easily access activities or sports of their choice. Through collaboration and sharing best practice we can all work together to break down the barriers and create more opportunities for all abilities.'
Places are limited so please register for free early to avoid disappointment through the following eventbrite link. https://ClubInformationEveMarch.eventbrite.ie