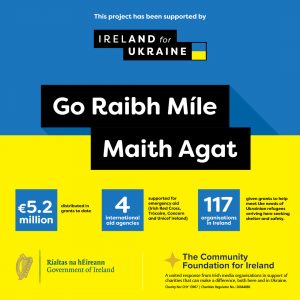 The Ireland for Ukraine Fund has announced details of €5.2m in grants to help those seeking safety in Ireland and people living in Ukraine as the war rages on.
Ireland for Ukraine is a joint fundraising campaign from a selection of Ireland's television, radio, print and online media, with all proceeds being divided to assist those working with people from Ukraine most affected by the conflict. All proceeds donated to the campaign have been received and are being managed by The Community Foundation for Ireland. According to The Community Foundation, the grants are being split 50:50 between local groups and charities set up to welcome people fleeing Ukraine and international agencies such as UNICEF, the Irish Red Cross, Concern and Trócaire.
More than 100 projects in Ireland, including those providing specialised supports such as trauma support, foster care, schools and access to work, day to day services, and self-advocacy and storytelling projects for Ukrainians, have been unveiled as grant recipients.
Announcing the funding Denise Charlton, CEO of The Community Foundation for Ireland, said:
"Generosity, humanity and compassion are at the very centre of the response of the Irish people to this crisis. Ireland for Ukraine struck a chord which has seen donations from children selling cakes, bridge evenings, athletics clubs, swims, musical evenings and so much more.

"From harp-playing on Inish Oirr to an 'Ireland for Ukraine Concert' at the National Concert Hall, from local junior GAA matches to the All-Ireland Finals, from pocket money sent in the post to the support of Government – 'Ireland for Ukraine' has motivated and reflected an incredible national response.

"The awareness-raising through our media partners helped people see that the need is great not just on the ground but also much closer to home. This fund gives reassurance that every donation is being used to address both."
Minister of State Joe O'Brien, who was also present at the announcement, said:
"The grants provided to the projects will support continued engagement with the Ukrainian community through a range of initatives, supports and interventions including outreach and focusing on building the capacity of local community groups,"
Sources: Business Plus (2022) & The Journal.ie (2022).