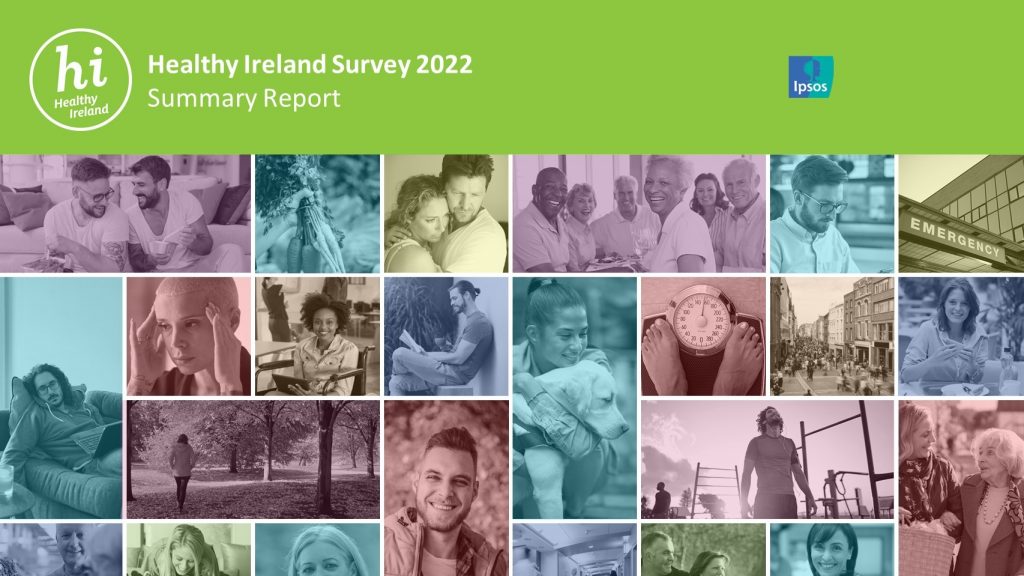 Minister of State with responsibility for Public Health, Wellbeing and the National Drugs Strategy, Frank Feighan, and Chief Medical Officer, Professor Breda Smyth, have announced the results of the Healthy Ireland Survey 2022, funded by the Department of Health and conducted by Ipsos.
The survey, which is run on an annual basis, gives an up-to-date picture of the health of the nation and reports on many lifestyle behaviours, including smoking, alcohol consumption, weight, oral health and utilisation of health services. This year's report is the seventh set of findings from the survey and adds to the data collected in the previous surveys published from 2015 – 2021.
A representative sample of 7,455 people aged 15 and older living in Ireland were interviewed between November 2021 and July 2022.
The data from Healthy Ireland Surveys are used to underpin policy development and implementation, to monitor, measure and evaluate progress in implementing various elements of the Healthy Ireland Framework, as well as to meet many international reporting obligations, including to the OECD, the EU and the WHO.
Minister Feighan welcomed publication of the report, saying:
"The Healthy Ireland Survey is a vital part of the information we collect on how people across Ireland are doing in terms of their health and wellbeing. We have been running the Survey each year since 2015. The data gathered since then gives us a great opportunity to look at how some key health behaviours, such as smoking, are changing over time."
The results reveal that the prevalence of smoking has remained the same since last year's survey. 18% are smokers and 46% of smokers have attempted to quit. The peer-led We Can Quit Programme is being rolled out in 19 community areas across Ireland. The National Stop Smoking Clinical Guideline published in January 2022 defines best practice for care of people who smoke including helping them to quit. In Budget 2023, all Nicotine Replacement Therapy (NRT) was exempted from VAT. And the Public Health (Tobacco Products & Nicotine Inhaling Products) Bill in development will introduce several restrictions on the sale of smoking products.
Findings on alcohol consumption indicate 67% have consumed alcohol in the previous 6 months and 32% of those would be considered binge drinkers. The Public Health (Alcohol) Act 2018 introduced a number of measures to reduce and delay alcohol consumption including minimum unit pricing, health labelling, regulation of advertising, reduced product visibility and the regulation of sale and supply.
This year's survey also included information about menstrual health and period poverty for the first time.
The findings indicate that 24% of women have experienced period poverty. Findings show a significant level of menstrual discomfort experienced by respondents, with 67% having experienced period pain, and with 49% having somewhat and 10% having significantly limited their daily activities on a regular basis due to their symptoms.
Measures to improve menstrual health, part of the Women's Health Action Plan, include the development of a network of 20 "see-and treat" gynaecology clinics. 12 are open with 8 more in development and Budget 2023 will fund a 21st clinic. 5 menopause clinics in Dublin, Nenagh and Galway have opened and the 6th clinic in Cork is expected to open in 2023. 2 specialist centres for endometriosis care and funding for six interdisciplinary teams across the country to support treatment of endometriosis are being established. The free contraception scheme available since September 2022 made hormonal contraceptive medications and devices, also used to manage period symptoms, free for women aged 17-25, and this scheme is due to be expanded to include women aged up to 30 by the end of 2023.
Actions to mitigate period poverty are focusing on supporting those most in need – the homeless, those living with addiction, minorities including Travellers and Roma, and those living with consistent poverty. This work will be continued and extended in 2023.
Visit Healthy Ireland Survey 2022 (www.gov.ie) for a copy of the Healthy Ireland Survey 2022 Report.