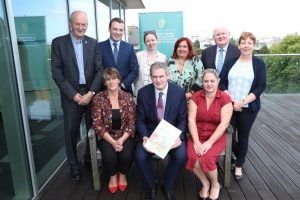 The Minister of State at the Department of Rural and Community Development, Mr. Sean Kyne, T.D., today (4 th September 2018) launched the Public Participation Network Annual Report 2017.
"I am very pleased to see that substantial progress has been made in the ongoing development of PPNs since the inaugural Annual Report in respect of 2016" the Minister said.
"In 2017 alone, there has been a 21% increase in PPN members, to 12,800. However, increased membership is not the full story. Capacity building is also required to ensure that the increased membership translates into tangible benefits. To this end, over 1,200 hours of dedicated, focused training was provided to over 2,600 participants during 2017. This has resulted in 882 PPN participants on some 380 boards and committees – ranging from Joint Policing Committees to County Tourism Boards to Local Development Partnerships – working diligently for the good of their communities".
Public Participation Networks were established in all local authority areas following the enactment of the Local Government Reform Act 2014. Their main function is to facilitate and enable the local community to interact with local government and other relevant legislation for the good of their communities.
"There is no doubt in my mind that the value of citizen participation in local decision making has been directly enhanced by the development of PPNs", said the Minister "Who better to know what's best for their communities than local people?"
Minister Kyne re-iterated his Department's commitment to the continued strengthening of PPN so that they achieve their full potential for the benefit of local communities and local democracy. The Minister also congratulated the National PPN Advisory Group for their work in the preparation of the Annual Report and their ongoing support of the Department in the development of PPNs.