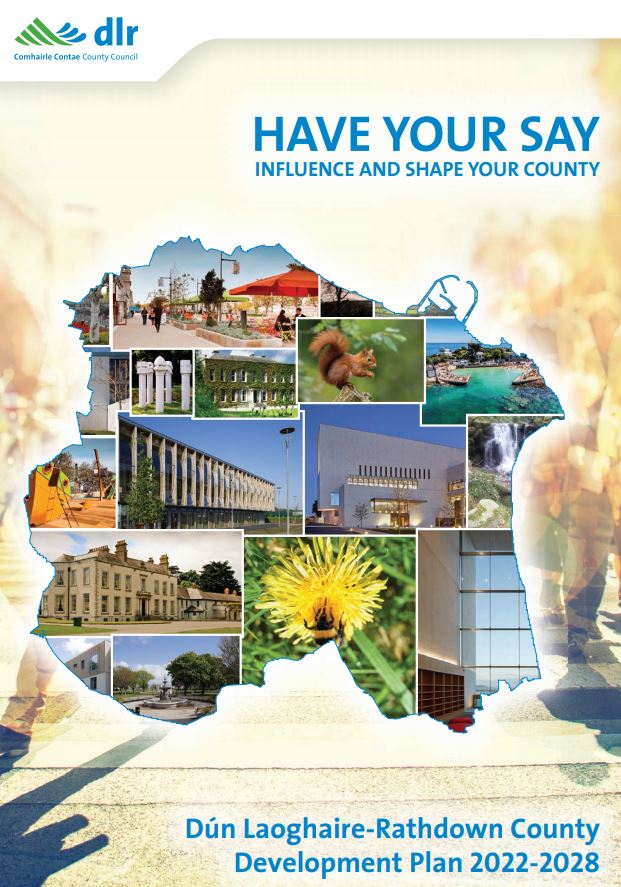 Dún Laoghaire-Rathdown (dlr) are embarking on the process of reviewing the current Dún Laoghaire-Rathdown County Development Plan, 2016-2022, and preparing a new County Development Plan (CDP) that will shape the future growth of the County for the period of 2022 – 2028.
It is important that residents, the business community, community groups,  interested parties and other stakeholders of Dún Laoghaire-Rathdown become involved in the preparation of the next County Development Plan at an early stage.  Public input at the start of this Plan-making process is important to ensure that the Plan, when finally adopted, both reflects, and responds to, public concerns and aspirations whilst at the same time aligning with National and Regional strategies required of the Council by legislation. 
To this end the Pre-Draft Consultation document "Have your Say" has been prepared. This document gives a broad overview of the main development issues impacting on the County to help stimulate public debate on what matters should be considered in the new Plan.  The document attempts to highlight the most significant issues that may be of interest but the list is by no means exhaustive.  Indeed it is the very purpose of this exercise that other issues will be raised by the public and other interested parties but, in line with Government guidelines, submissions at this stage are required to focus on strategic and 'Big Picture' matters.  The council cannot consider at this stage of the process submissions relating to the potential zoning and/or rezoning of specific or particular parcels of land.  These more detailed matters will be considered during the Draft Plan phase of the process – which is approximately 12 months away.
The Pre-Draft consultation process will run for eight weeks from Friday 3rd January 2020 to Friday 28th February 2020, and will include six Open Days at which the Development Plan Team will be available to provide advice and respond to any queries from the general public. 
The Open Days are listed below:
Venue
Date
Time

County Hall Marine Road Dun Laoghaire

21st January 2020

2pm-8pm

Dundrum Council Offices

Dundrum Office Park

Main Street

Dundrum

Dublin 14

 

23rd January 2020

2pm-8pm

Blackrock Library, Main Street, Blackrock

28th January 2020

2pm-8pm

Stillorgan Library

St. Laurence's Park

Stillorgan

Co. Dublin

30th January 2020

2pm-8pm

Shanganagh Park House

Rathsallagh Avenue

Shankill

Dublin 18

11th February 2020

2pm-8pm

Samuel Beckett Civic Campus

Ballyogan Road

Dublin 18

13th February 2020

2pm-8pm
The initial pre-draft public consultation process commences 3rd January 2020.  A 'Have Your Say' document will be available for inspection online and at dlr Council Offices and Libraries from the 3rd January 2020. To read the document online, please click here.