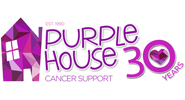 Purple House are continuing to provide essential support and information services to cancer patients, their families and carers, either online or by telephone to as many of their service users, both adults and children, as possible.
Counselling services are being provide to their Clients via a number of online mediums, and also telephone counselling and support with their team of professional counsellors and therapists is provided daily.
Some relaxation classes and creative writing classes and music classes are online on their Facebook page. Please visit this on 
www.facebook.com/purplehousecancersupport
 and website at 
www.purplehouse.ie
 for more information on these classes and other services available to all their clients during this unsettling time.  The next relaxation class is on tomorrow at 11am live on facebook.
Purple House are also providing our Hospital transport service with those volunteers who wish to continue doing so in line with Social Distancing and Protective items such as masks, gloves, sanitizers etc.
A number of volunteers have signed up to collect and deliver shopping, prescriptions etc to their vulnerable clients who live alone and who may be isolated and unable to get out and about. This is working extremely well and they are fortunate to have a number of non-perishable items that they can donate also through their food hampers.
Purple House bandanas are also a useful source for people to cover their mouths when out as masks are in such short supply, they have got an amazing response for these and  have been sending these out to their clients.
Phone lines are all diverted to staff and counsellors off site, in line with Government guidelines,  and this is monitored daily to ensure that no one is left isolated and alone