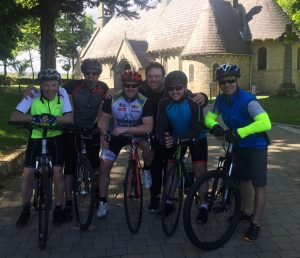 At 6.30am on Saturday the 12th of May, 7 cyclists took to the high roads and by roads of Wicklow to cycle 102km all in aid of Saint Joseph's Shankill, dedicated to dementia care. The magnificent seven are all staff members at Saint Joseph's who went that extra mile to make a difference to those that they care for and their families. The challenge named the 'Crinken 100' – raised funds towards special activity equipment for Saint Joseph's residents to enjoy with their families.
The ambition of the project was to visit 6 local spots all in one day; these 6 spots are the places that the new lodges in Saint Joseph's are named after – Rathmichael, Avoca, Carigeen, Glendalough, Kilcroney and Delgany.
This staff led initiative was the idea of James Leahy and his colleagues John Murphy, Ed Keating, Robert Weglowski, David Quinn and Kirby Aranas all agreed to take part. They have all been in training over the last couple of months.
Saint Joseph's Shankill is the only care home in Ireland solely dedicated to dementia care. Our  vision is to lead the way in dementia care in Ireland, providing highest quality, person centred care to our residents, where their home, happiness and feelings matter most to us.  
For information or to volunteer to donate to support the work of Saint Joseph's email saintjosephs@sjog.ie or call +353 1 282 3000