Shankill & Ballybrack CFR are delighted to announce 2 new public access defibrillators that have been installed in Shankill recently.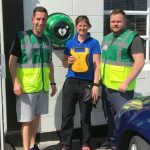 The first defibrillator was installed at PM O'Loughlin at the BBQ Centre in Shankill. This defibrillator has been funded by a lot of very hard work by our volunteers and a grant from Dun Laoghaire Rathdown County Council. We are so grateful for all the help received in getting this in place from our volunteers, followers and local councillors – Jim Gildea and Cormac Devlin. We would also like to thank the staff at PM O'Loughlin for installing the defibrillator.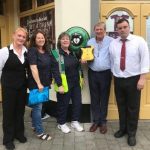 The second defibrillator is now outside Brady's of Shankill. This defibrillator was very kindly donated by our friends in Bank of Ireland through the staff "Be at your best" scheme. We would also like to thank John Brady and all the staff at Brady's of Shankill for providing and installing the cabinet for our defibrillator.
This brings a total of 4 publicly accessible defibrillators installed locally
The Igo Inn, Ballybrack

The Lough Inn, Loughlinstown

PM O'Loughlin, The BBQ Centre, Shankill

Brady's of Shankill