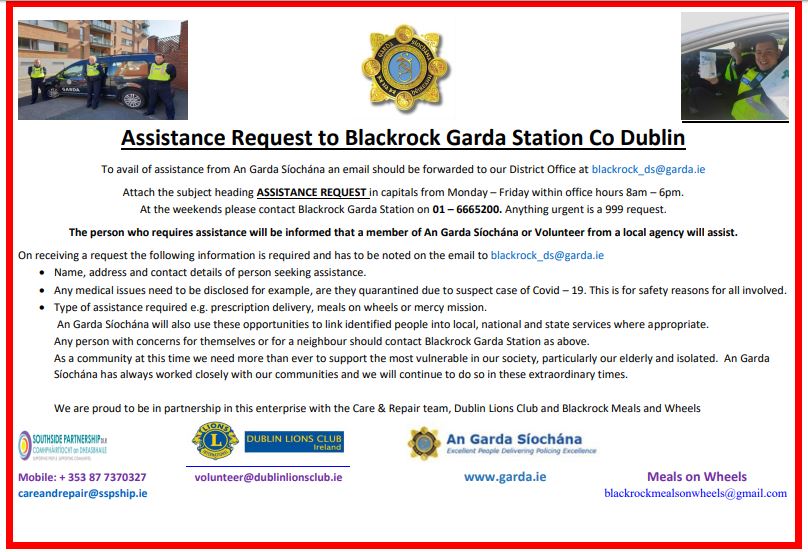 To avail of assistance from An Garda Síochána an email should be forwarded to our District Office at  blackrock_ds@garda.ie
Attach the subject heading ASSISTANCE REQUEST in capitals from Monday – Friday within office hours 8am – 6pm. At the weekends please contact Blackrock Garda Station on 01 – 6665200. Anything urgent is a 999 request.
The person who requires assistance will be informed that a member of An Garda Síochána or Volunteer from a local agency will assist.
On receiving a request the following information is required and has to be noted on the email to blackrock_ds@garda.ie
Name, address and contact details of person seeking assistance.

Any medical issues need to be disclosed for example, are they quarantined due to suspect case of Covid – 19. This is for safety reasons for all involved.

Type of assistance required e.g. prescription delivery, meals on wheels or mercy mission.
An Garda Síochána will also use these opportunities to link identified people into local, national and state services where appropriate. Any person with concerns for themselves or for a neighbour should contact Blackrock Garda Station as above.
As a community at this time we need more than ever to support the most vulnerable in our society, particularly our elderly and isolated. An Garda Síochána has always worked closely with our communities and we will continue to do so in these extraordinary times.