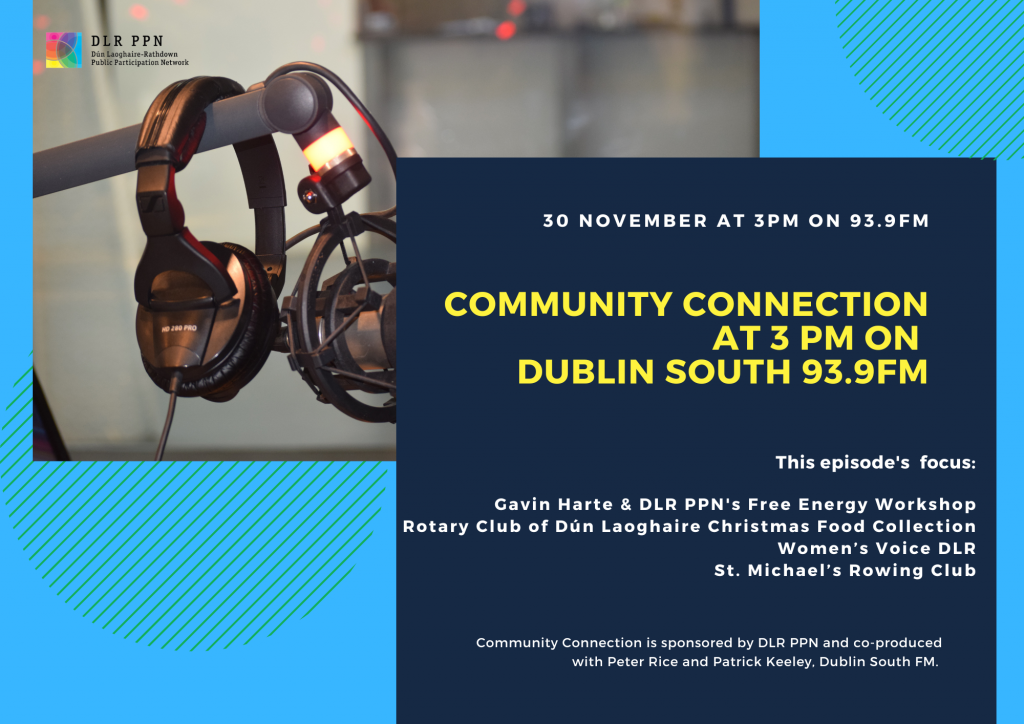 Tune in to Dublin South FM 93.9FM today at 3 pm for Community Connection!
This month's episode of Community Connection will be broadcast on Wednesday 30 November at 3pm and repeated on Thursday at 4pm.
Featured in this month's episode:
Gavin Harte of ESD Training together with the Dlr PPN are holding a free Energy Workshop on Tuesday 6th December at 7pm on Zoom to discuss Sustainable Energy Communities and energy efficiency. Gavin Harte joins us to tell us more.
For over 15 years, the Rotary Club of Dún Laoghaire has collected nonperishable food at Supervalu, Blackrock Shopping Centre. This food was distributed locally primarily through St Vincent de Paul benefiting very many families at Christmas. Eimear McAucliffe from the Rotary Club in Dún Laoghaire joins us to discuss this year's Annual Christmas Food Collection.
Women's Voice DLR is a relatively new non-profit organisation group that was born out of a course entitled Women and Leadership led by Southside Partnership and the Women 4 Women network. We are joined by Chairperson of Women's Voice DLR, Aurelia Ciblis who tells more about the group and their next event at the multicultural women's breakfast.
East Coast Rowing Clubs undertook the challenge of rowing around Ireland in 24 hours on ergs in aid of Alice Hayes, a 9-year-old girl from Blackrock who was diagnosed with cancer in April of this year. Gareth Witthington and Nicola Fitzgerald from the St. Michael's RC join us to discuss fundraising initiative
Community Connection is sponsored by DLR PPN and co-produced with Patrick Keeley and Susan Kane, Dublin South FM and Colette Downing, DLR PPN Manager.