To the DLR Public Participation Network
Current phase of Dundrum Central consultation to close on February 28th
The Land Development Agency is asking Residents Associations, community groups and other stakeholders to be aware that the closing date for the current phase of consultation for the Dundrum Central project is February 28th.
The Dundrum Central project is setting out concept proposals for a new housing development and neighbourhood on this landmark site, soon to be former Dundrum Central Mental Hospital.  The lands provide a unique opportunity to transform this inward-looking site into a new, welcoming, sustainable urban community with a distinctive identity which will be integrated into the wider community of Dundrum.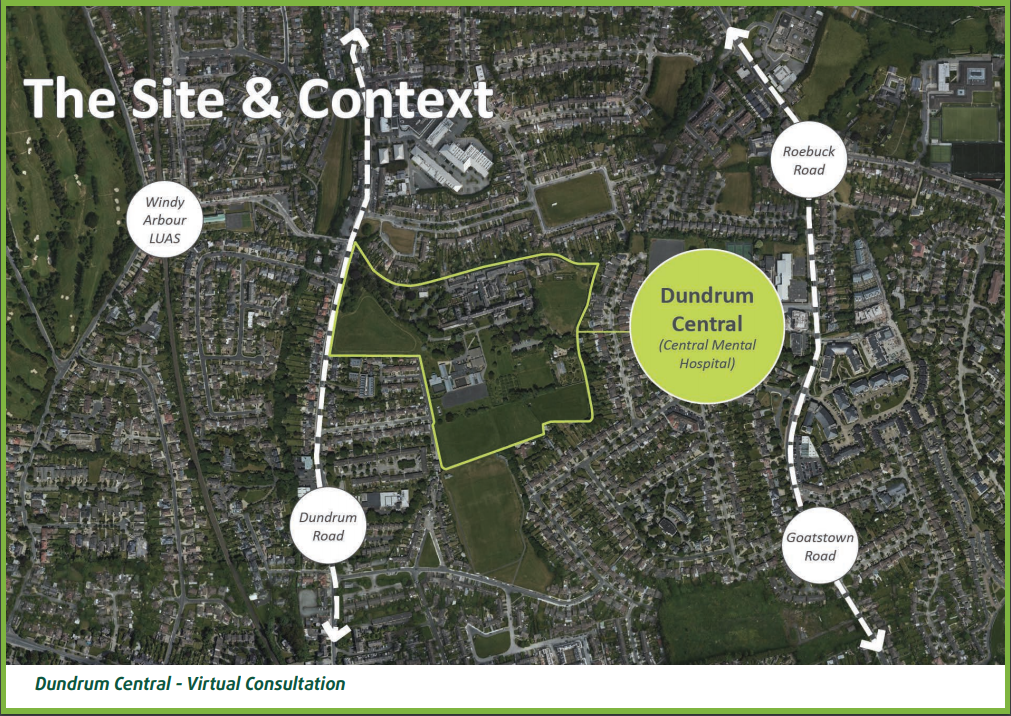 The project is currently in its second phase of public consultation.  This phase outlines the early-stage concept proposals.  These early-stage proposals seek to develop a sustainable and distinctive community for this landmark site. These proposals include sensitive adaptive re-use of the heritage structures, with the new neighbourhood to be designed to complement and integrate within the mature landscape and parkland setting. Creating a community is a key aim of the concept designs, to be achieved through the design of the neighbourhood, the range of community and recreational facilities and sensitive re-imagining of key heritage assets on the site. There are also community spaces proposed, including multifunctional open space and public realm, with well-designed walking and cycling routes. Access to and integration with the surrounding community in the Dundrum and Windy Arbour areas is a key feature of the emerging proposals.
Our virtual exhibition has had over 2,730 visitors since launch during January 2021, and the website itself has had 4,600 visitors in the same period. We also had approximately 100 people attending each of the webinar that took place over recent weeks. We have also held online meetings with all local Residents Associations and interested groups. The feedback received at these events and through other group and individual engagements is helping to shape the final design of the project.
The project virtual exhibition can be viewed at www.dundrumcentral.ie.    This site also has recordings of the project webinars, which will give a guided presentation of the project by the project team.  Having viewed the project information, we would encourage you to leave feedback on our website.
The current phase of consultation is due to conclude on February 28th.  Following this, we will collate, and consider the feedback received to date. This will help inform consideration as we progress with developing a draft Masterplan in the coming months. There will be a further opportunity for the public to see the Draft Masterplan in the coming months.  Updates will be provided on our website and shared on our ebulletin.
With just over one week left in the public consultation, we would ask all interested parties to take the time to give your feedback on this important project for Dundrum and the surrounding community.