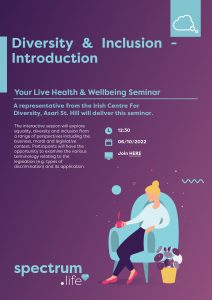 Dún Laoghaire-Rathdown (DLR) County Council is delighted to host the annual DLR Festival of Inclusion. The aim of the DLR Festival of Inclusion is to highlight and celebrate social inclusion initiatives and to support and encourage all to actively participate and engage in the community.
As part of this year's DLR Festival of Inclusion, join the Social Inclusion & Training sections of Dún Laoghaire-Rathdown County Council, Spectrum Health and Asari St. Hill to learn about equality, diversity and inclusion from a range of perspectives including the business, moral and legislative context.
Date: 6th October 2022
Time: 12:30 pm to 1:30 pm
Location: Online at Microsoft Teams
In this interactive session, participants will have the opportunity to examine the various terminology relating to the legislation (e.g. types of discrimination) and its application. Individuals, groups and organisations with an interest in Equality, Diversity and Inclusion are welcome to join this seminar. It may be particularly relevant to those delivering community / social / health / educational services who would like to explore ways to make their services more inclusive.
For further information, contact community@dlrcoco.ie  or call 01 205 4893.