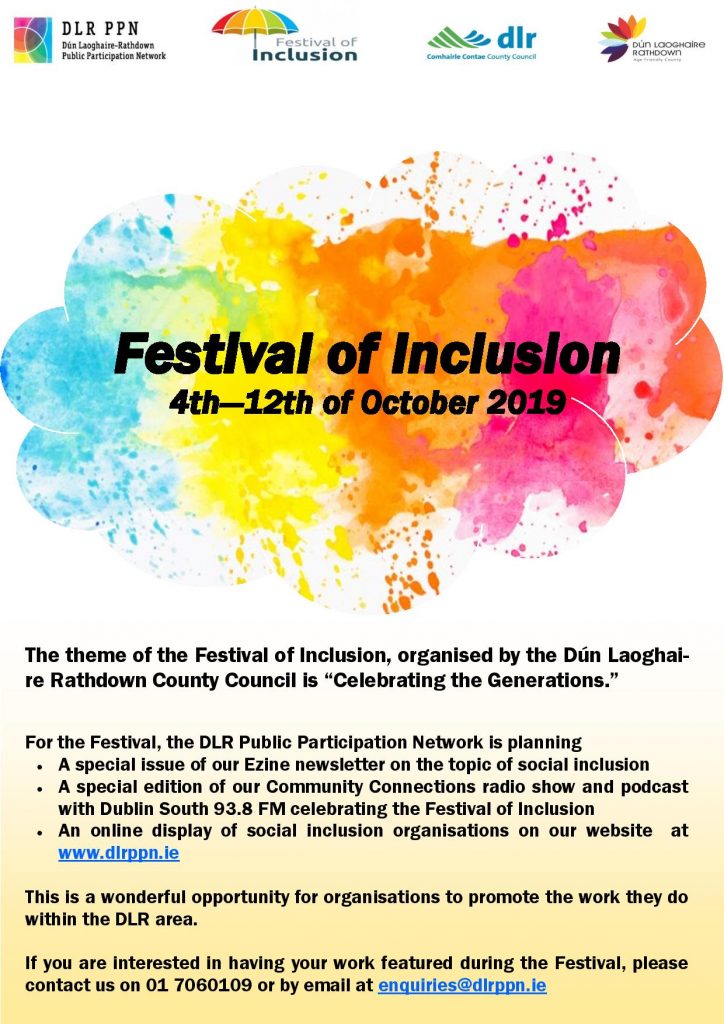 The Festival of Inclusion is an event organised by Dún Laoghaire-Rathdown County Council which will run from Friday 4th to Saturday 12th of October 2019.
The theme of this year's Festival is "Celebrating the Generations".
The idea behind the Festival of Inclusion events is that they raise awareness and provide people and groups with opportunities to engage, participate, question and experience things which are unfamiliar to them, the outcome of which is that they are enriched, informed and more likely to take a proactive, respectful approach to living in a diverse and vibrant county.
For the Festival, the DLR Public Participation Network is planning:
1. A special issue of our Ezine newsletter on the topic of social inclusion
2. A special edition of our Community Connections radio show and podcast with Dublin South 93.8 FM celebrating the Festival of Inclusion
3. An online display of social inclusion organisations on our website
This is a wonderful opportunity for organisations to promote the work they do within the DLR area.
Groups and communities interested in having their work featured during the Festival in our Ezine, on our website or on a radio podcast can contact us on 01 7060109 or by email at enquiries@dlrppn.ie.