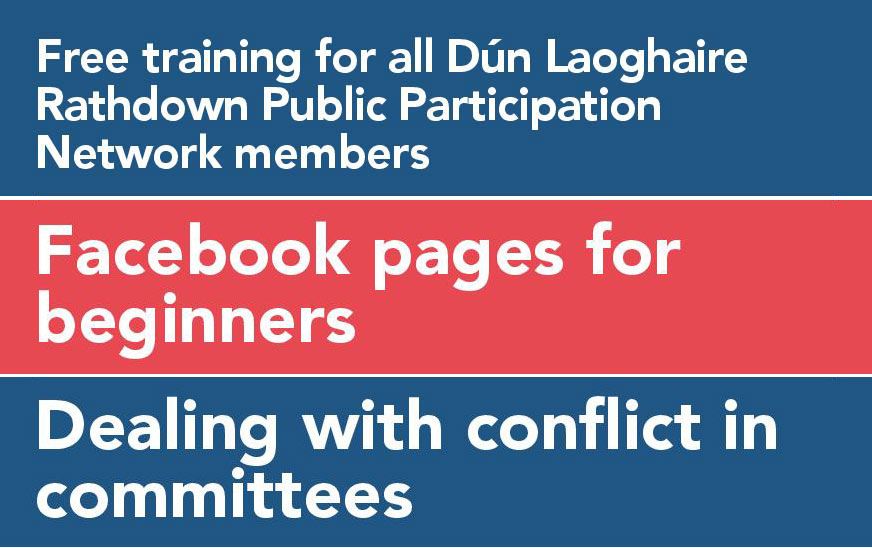 DLR Public Participation Network is running free training workshops for PPN members in November and December.
Dealing with Conflict in Committees
6-9pm, Wed 23rd Nov, Mounttown Community Centre, Dún Laoghaire
(Bus routes: 46A, 63, 75. Free car parking)
OR 6-9pm, Mon 28th Nov, Samuel Beckett Civic Campus, Ballyogan
(Bus route: 63. Luas Green Line: Ballyogan Wood. Free car parking)
This training will:
Examine conflict in terms of its positive & negative impacts.

Explore what causes conflict in management committees.

Examine practical steps to deal with/reduce conflict, for example rules, good practice at running meetings, transparency, code of conduct.

Identify the impact of different communication styles.

Highlight 4 conflict resolution styles and when is best to use them.
Facebook Pages for Beginners
6-9pm Tues 29th Nov, Rosemount Family Resource Centre, Dundrum  (Bus routes: 14, 17, 44, 75. Luas Green Line: Dundrum)
OR 6-9pm Thurs 1st Dec, Mounttown Community Centre, Dún Laoghaire  (Bus routes: 46A, 63, 75. Free car parking)
Facebook pages are a free and useful way for community groups to put information about themselves online and are a good alternative to a website. This training will include:
Setting up a Facebook page

Adding images & information

Sharing news and updates

Reaching & growing your audience

Safety and privacy issuesTo take part you will need to have basic computer skills, e.g. be able to send an email and search for information online. You will also need an email address or a Facebook account and you will need to know the passwords for these. You can bring your own laptop to use at the training or get in touch if you will need a computer.To book either of these training workshops for you or your members, please contact Laura at laura@dlrppn.ie or call her on 087 6394506