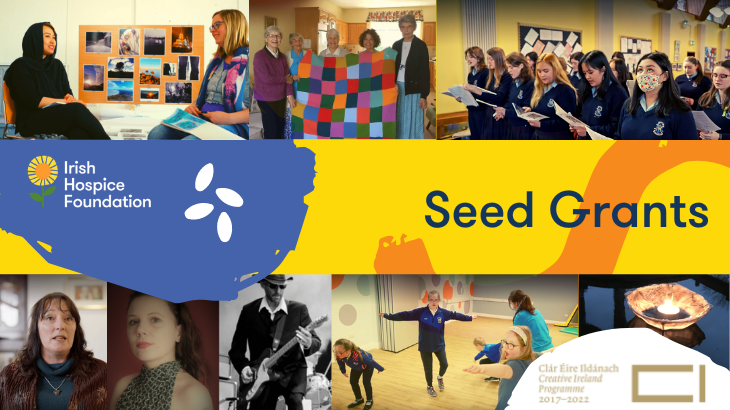 The Irish Hospice Foundation is inviting applications from groups and /or individuals nationwide to its IHF Seed Grant Programme 2022 – 2023 before the closing date of Friday 28th October at 5.00 pm.
The IHF Seed Grant Programme 2022 – 2023 seeks to inspire and support the work of groups, organisations and individuals across Ireland who wish to mark, in some tangible way, their response to the universal realities of dying, death and bereavement. Through this fund, IHF aims to help start new local art projects, or to support existing projects to gain momentum – this may involve artists, craftspeople, performers, and/or coders. It may be a group or individual who has a good idea.
Accordingly, 15 Seed Grants are available to support groups, organisations and individuals in exploring creative ways to do this. Priority will be given to creative initiatives that take innovative approaches to reflection and remembrance.
The IHF Seeds programme was piloted in early 2021 and extended through to 2022. To date, 39 projects have been supported with micro-grants, expertise, and resources enabling communities of place or interest to develop their tools or articulate their needs.
Previous awardees include individual artists, writers, nursing homes, secondary schools, community groups, disability support centres, local choirs, and hospitals. This year, IHF is encouraging as wide a group of people as possible to apply with a simple application process and lots of support.
As part of previous Seeds Grants programmes, there were several awardees from several counties in Leinster. Some examples include:
Offaly – Remembering Tree by Michelle O'Donell
Glass artist Michelle O'Donnell of Glasshammer Studios in Rhode, Co. Offaly, invited local people who had lost loved ones during the pandemic to come to her studio and make fused glass leaves in their memory. Read more about the Remembering Tree project Here.
Dublin – Over the Bridge by Eamon Clery
Eamon Clery made a short film (sizzle reel) on Ringsend's decade's old tradition of families arranging for a deceased relative's coffin to be carried over Ringsend Bridge into the village church for a funeral service. Read more about the 'Over the Bridge' project Here.
Kildare – Murmurations by Embrace Music
Sadhbh O'Sullivan and Sharon Murphy of Embrace Music wrote Murmurations – a cycle of three pieces of music reflecting and drawing upon the breadth and depth of loss experienced by older people and those living in residential care, known to them through their work as music and health practitioners. Read more about the 'Murmurations' project Here.
Louth – Bringing the Outside in by St Joseph's Nursing Home
Residential Care Practice Developer, Vicky McGauley, engaged with the residents, visitors, and staff of St Joseph's Nursing Home in Ardee, Co Louth, in the creation of a mural to enhance a room designated as a quiet space for anyone in need of time out for reflection. Read more about the project Here.
Meath – Absent Voices by Dunshaughlin Choral Society
Róisín Freeney and the 45 members of Dunshaughlin Choral Society, an amateur community choir, composed and recorded 'Absent Voices' an original collaborative piece to reflect the loss of members and loved ones in their village. Read more about the project Here.
Videos of successful applicants from 2022 are available to view on YouTube HERE.
Grants of up to €2,000 are available with up to 15 awards on offer. Full details are on the IHF website: https://hospicefoundation.ie/seeds
Successful awardees from previous years are available for interview on request.
Application Process
Apply via either the digital application form on the IHF website or you can also download and print an application form from the IHF website and submit by post. For full details see: https://hospicefoundation.ie/seeds
Key Dates
Thursday 6th October 2022: Application process opens.
Wednesday 19th October 2022: Online briefing / Q&A clinic for potential applications.
Friday 28th October 2022 @ 5.00pm: Closing date for all applications.
Tuesday 8th November 2022: Successful applicants announced. All applicants will be notified this week.
Friday 28th April 2023: Successful projects must be completed by this date.
About Irish Hospice Foundation
Irish Hospice Foundation is a national charity that addresses dying, death and bereavement in Ireland. Our vision is an Ireland where people facing end of life or bereavement, and those who care for them, are provided with the care and support that they need.
Through advocacy and education, and the provision of services such as Nurses for Night Care and the Bereavement Support Line, Irish Hospice Foundation works to ensure that every person in Ireland can die and grieve well, whatever their age and wherever the place. For more information or to support all we do see www.hospicefoundation.ie
Contact details
Dominic Campbell, Arts & Creative Engagement Officer, Irish Hospice Foundation
dominic.campbell@hospicefoundation.ie or 086 829 7919
Lynn Murtagh, Head of Marketing & Communications, Irish Hospice Foundation
lynn.murtagh@hospicefoundation.ie or 085 105 2058