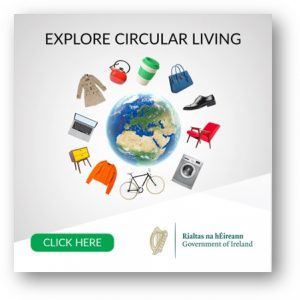 Minister of State at the Department of the Environment, Climate and Communications, with responsibility for the Circular Economy and Communications, Ossian Smyth, today announced a call for applications for the 2022 funding round of the Circular Economy Innovation Grant Scheme (CEIGS).
This €650,000 grant scheme supports innovation and circular economy projects by social enterprises, voluntary and community organisations, and businesses with fewer than 50 employees. Up to €100,000 is available for individual projects that demonstrate exceptional impact.
The CEIGS was established by Minister Smyth in April 2021, with applications received that year covering a wide range of circular economy themes including food waste, plastics, single-use plastics, packaging, construction, textiles and general waste. Ultimately, some €490,000 in CEIGS funding was awarded to 10 applicants under the 2021 funding round.
This year-on-year increase is in line with the commitment in the Circular Economy Strategy 2022-2023 to increase CEIGS funding each year to 2024.
Minister Smyth acknowledged the important role played by the grant scheme, saying:
"I am delighted to be able announce the second call for the Circular Economy Innovation Grant Scheme 2022. If our economy is to become truly circular, change at every level of our society is required. The CEIGS 2022 will continue to support communities to transition to a more sustainable future, with a focus on reducing and eliminating waste and keeping resources in use for as long as possible."
Applications for funding could focus on the thematic areas which relate to priorities for the circular economy in Ireland, namely:
plastics
construction and demolition waste
Food waste
Resources and raw materials (electrical and electronic equipment, textiles, furniture).
Full details on the application process for the Circular Economy Innovation Grant Scheme are available on the Government of Ireland website and applications are open until 16 December 2022.
For more information, please visit the department's website here.