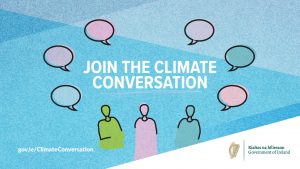 The Minister for the Environment, Climate and Communications, Eamon Ryan TD, today launched the Call for Expert Evidence 2022. This call seeks evidence-based responses and submissions from experts, research organisations and other such groups/individuals that work in areas relating to climate, environment and energy.
These responses and submissions will help to support and inform the process being undertaken to prepare Climate Action Plan 2023, which is due to be published later this year.
The Call for Expert Evidence forms part of the Department of the Environment, Climate and Communication's Climate Conversation 2022, which invites people from all over the country to have their say on how we can all play our part in securing our sustainable future.
This consultation is open until 5:30pm on Tuesday, 20 September 2022. Participants are requested to complete the online questionnaire or, alternatively, make a submission by email or through Irish by email: CallforEvidence@decc.gov.ie Submissions by post can be sent to Environment and Climate Action Plan Delivery Division, Department of the Environment, Climate and Communications, 29-31 Adelaide Road, Dublin 2, D02 X285.