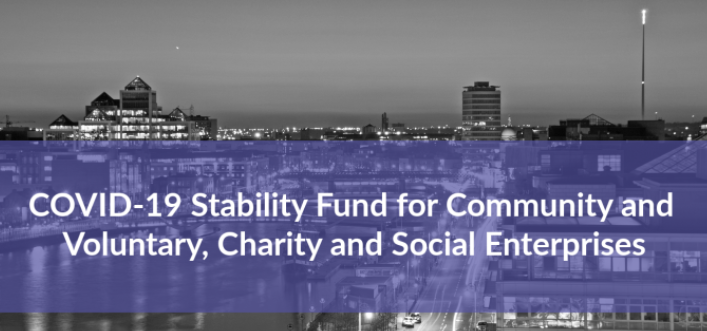 €11 million support package to benefit 209 organisations
Funding aimed at providing immediate assistance to community and voluntary groups, charities and social enterprises
Cash injections for organisations that provide critical services to those most vulnerable in society
Some 209 organisations across the country are to benefit from €11 million worth of funding under the Covid-19 Stability Fund.
The funding was announced by Minister for Social Protection, Rural and Community Development and the Islands, Heather Humphreys TD, Minister for Health, Stephen Donnelly TD and Minister of State with responsibility for Community Development and Charities, Joe O'Brien TD.
The funding from the Dormant Accounts Fund is designed to support community and voluntary organisations, charities and social enterprises that are experiencing financial difficulties as a result of the COVID-19 pandemic.
Once-off cash injections of between €2,000 and €200,000 are being awarded to qualifying organisations that provide critical services to those most vulnerable in society.
This will help with short term cash flow issues caused by the COVID-19 crisis.
This includes organisations from both phase 1 and 2 (unincorporated charities) of the fund and is on top of two previous tranches of the funding announced in June and July 2020 that benefitted 276 organisations amounting to €14.1m in funding.
These organisations provide services in a diverse range of areas including disability services, health and wellbeing services, community supports, active retirement and elder care services as well as a range of social services and supports for disadvantaged individuals and communities.
Some of the successful applicants today include:
Society of the St Vincent De Paul Ireland                                                       €200,000
St Lukes Charity & Northridge House Education & Business Centre        €192,733
Gary Kelly Cancer Support Centre                                                                   €87,932
Sligo Centre for Independent Living                                                                €53,240
Comharchumann Forbartha an Leith Triuigh Teoranta                             €34,270
Community Radio Castlebar                                                                             €27,689
Minister Humphreys said:
"I am delighted to join with my colleagues, Ministers Donnelly and O'Brien, to announce a further tranche of funding – totalling €11 million – under the COVID 19 Stability Fund. I am very aware of the valuable contribution of the Community and Voluntary sector in general. This is particularly the case as Ireland navigates its way through this pandemic.
"I hope that this funding will help to support these organisations to continue to provide their valuable services to the people most in need and support individuals and communities as we work our way through the impact of the pandemic.
"I would like to take this opportunity to thank all the volunteers and community workers across the country who are providing their services in difficult circumstances ensuring that all our citizens are supported through this very difficult time and I look forward to the day when I can thank you in person."
Minister Donnelly said:
"I am pleased to announce this latest tranche of funding under the COVID 19 Stability Fund together with my colleagues, Ministers Humphreys and O'Brien.
"Community and voluntary organisations, charities and social enterprises play a vital role in our society, and their volunteers and workers are incredibly dedicated. Many of them have worked tirelessly throughout the pandemic to support and help people across Ireland and this funding will help them to continue in this work. Along with my colleagues in the Department of Health, Minister Butler, Minister Feighan and Minister Rabbitte, I welcome these additional resources which will help these organisations to continue their valuable work."
Joe O'Brien TD, Minister for State with responsibility for Community Development and Charities added:
"I would like to add to what my colleagues Ministers Humphreys and Donnelly have said and express my gratitude to all of the organisations around the country that are helping our most marginalised and disadvantaged.
"Their work is critical as we try and manage our way through this pandemic and the impact of it. I hope this funding will provide some level of support to allow organisations to continue to provide their valuable services and supports to individuals and communities all over the country."
Due to the considerable interest in the COVID-19 Stability Fund and in order to ensure that funding is released as quickly as possible, applicants are being considered in smaller groupings and the funding being announced today is the third tranche. There remains a small number of organisations that have applied for funding where further checks are ongoing. Additional tranches will be announced shortly.
A full list of successful applicants under Tranche three is available here.