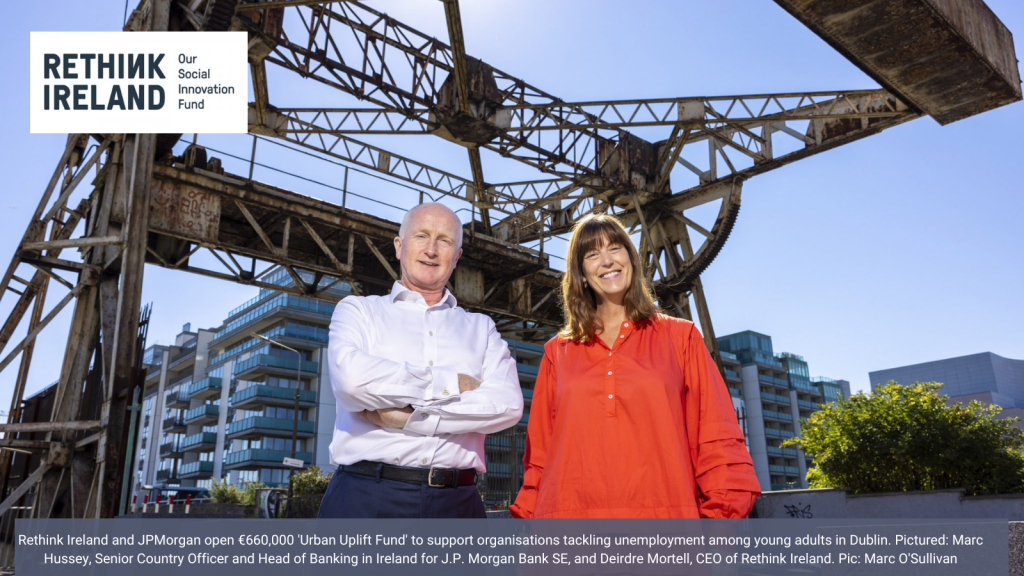 Rethink Ireland is thrilled to announce the launch of its Urban Uplift Fund. This €662,821 Fund aims to support not-for-profit organisations working towards youth employment and/or youth employability in Dublin's most disadvantaged areas. The Fund will aim to empower up to 120 young adults into jobs, apprenticeships or work experience programmes in the green and/or digital economy. In addition, it will aim to enable up to 75 young adults to complete certified training and up to 80 to progress on to further education.
This 2-year Fund has been created in partnership with JP Morgan Chase and the Department of Rural and Community Development via the Dormant Accounts Fund. Up to 4 awardees will receive a package of support, including:
A Cash grant of up to a maximum of €55,000 per annum

A place on Rethink Ireland's capacity building Programme

One-to-one mentoring support tailored to the specific needs of each project
The fund is inviting applications from:
Not-for-profit organisations operating and making their impact in Dublin City

Projects providing a holistic/wrap-around response to addressing the range of internal and external factors/barriers preventing young people aged 18-30 from joining the labour market

Projects supporting young adults into either; quality employment and/or apprenticeship programmes and/or full-time & paid work placements and/or accredited/non-accredited training
The fund is open for applications from Monday 22nd August until Tuesday 25th October at 5pm. Please see the Rethink Ireland website for more information on who is eligible to apply and how to submit your online application.
You can also participate in one of the online Application Clinics to hear more about this opportunity, ask your questions and get some tips on writing an effective application: (These sessions will be identical, so you do not need to attend both)