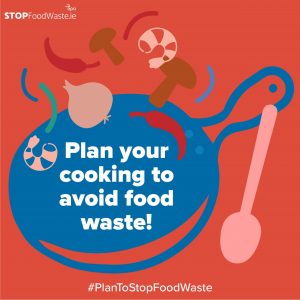 The EPA's Stop Food Waste programme is the national food waste prevention campaign, providing guidance and resources to help people adopt good food management behaviours and reduce their food waste.
This month, remember that planning what you're going to cook can help you avoid food waste. How do you do that? Here are some tips.
Plan what you're going to cook and use food you already have.
 Plan meal portions by measuring the amount of ingredients you need
Choose recipes that use some of the same ingredients in more than one meal – this will save you money and makes sure food gets used up.
Plan and cook meals with family, housemates or friends so you cook food you know everyone will want to eat.
Plan to batch cook and freeze some dinners for easy meals during the working week – this will save you time, stress and help you use up food you already have at home.
At mealtimes, serve food in bowls or platters and let everyone take the amount of food they want. This makes it easier to box up any leftovers for the fridge or freezer.
Eat or freeze yummy leftovers – leftover food is tastier the next day or can be popped in the freezer to be eaten another time.
People who plan what they are going to cook tend to waste less food. The simple acts of cooking with what you have, thinking about portion sizes, measuring ingredients, and batch cooking can have a big impact on how much food we waste.
And by investing a little time in planning what you cook you can also:
Save money as you are focused on only preparing and serving what is needed
Save time in your busy schedule by cooking with what you have or batch cooking for future meals
Feel more organised and take one stress away as you cook what you need for meals you plan to eat.
Source: StopFoodWaste.ie