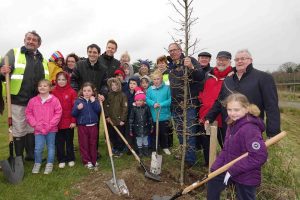 On Thursday 4th April, the Cathaoirleach, Cllr Ossian Smyth and Minister for Higher Education Mary Mitchell O'Connor,  planted a variety of new trees in Stonebridge Park, Stonebridge Road, Shankill, to promote National Tree Week and highlight the contribution of the Shankill Tidy Towns Group, together with Crann – Trees for Ireland, (both PPN members)  in furthering their "Trees for All" initiative. 
Shankill Tidy Towns and Crann in co-operation with Dún Laoghaire-Rathdown County Council and the local community have so far planted more than 15,500 trees in the environs of the village – more than one tree for every resident. This has helped to enhance Shankill's local biodiversity, offset  carbon emissions and contribute positively to the abatement of greenhouse gas emissions. This year they had over 1000 trees for planting,courtesy of Coillte, and with the aid of the local community and schools  they encouraged  everyone to get involved by planting the right trees in the right places.  
National Tree Week was sponsored by Coillte Teoranta and took  place from 31st Mar – 6th April this year. It's an annual, week-long festival organised by the Tree Council of Ireland and was locally supported by the Parks Dept. of Dun Laoghaire Rathdown County Council and Crann – Trees for Ireland  This year's theme was "Planting for the Planet" and was aimed  at promoting tree planting throughout Ireland.