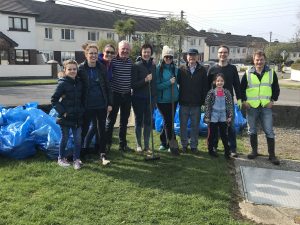 Taney Area Residents Association had our annual Spring Clean on April 6th.  Thanks to the 30 or so volunteers who put in the effort to continually improve our local area. Over 30 bags of cuttings & rubbish were collected from Taney's roads and laneways and considerable efforts were expended tidying up vegetation encroaching on the tarmacked area of the green, most of which was 'returned to the land' in the form of upturned turf around the green's perimeter.
This is our second year in existence, and we have found that the clean-up sessions are a great way to get to know each other, as well as tidy up the area.  We will be organising a similar event in the autumn. We are planning to enter the Tidy Towns competition for the first time this year, so hopefully our efforts will not go unnoticed.
We are also looking for volunteers for a gardening group to bring horticultural beauty and help for wildlife in the green and roads of Taney – please get in touch at taneyarea@gmail.com if you would like to be involved.