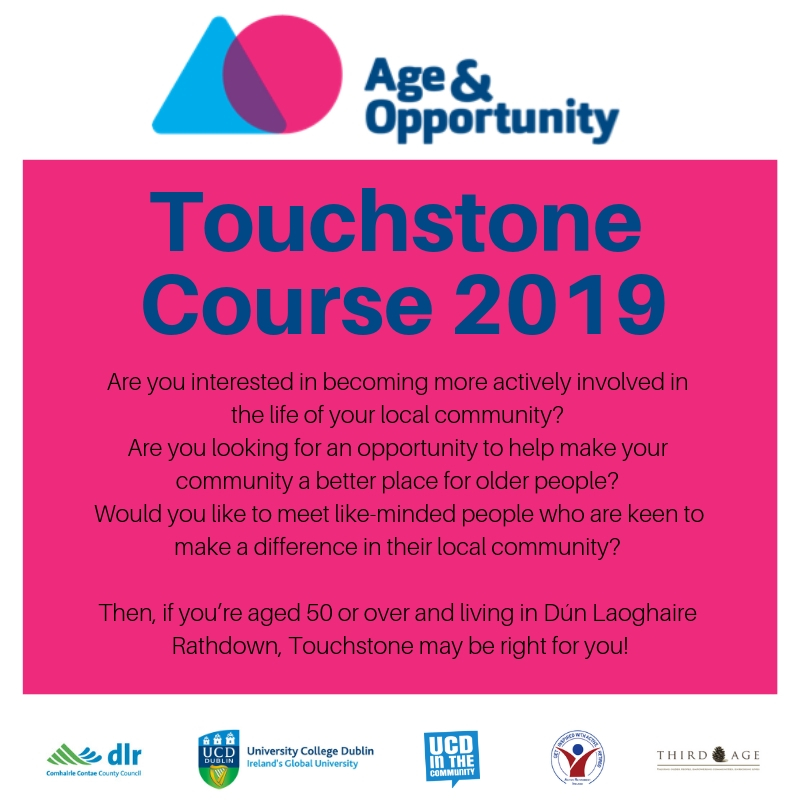 Touchstone is a new short course which aims to develop the skills and knowledge of people who wish to play a part in helping to make their communities more age friendly. People attending the free course will develop new skills, explore a range of interesting and topical issues, carry out practical projects, try new experiences, have some fun and, hopefully, make new friends. No previous experience or qualifications are required. All we ask is that participants have experience of everyday life, an open mind and a willingness to try out new things!
This course is funded by Dún Laoghaire Rathdown County Council and is being delivered in partnership with UCD. It runs over 8 weeks, with each weekly session lasting around two and a half hours on Thursday mornings from 14 March to 2 May.
Touchstone is attractive to people:
wishing to bring about change particularly in the local community;

wishing to give something back

wanting to improve the community for future generations;

with personal experience which has heightened an awareness of what needs to change;

attempting to become more integrated as a newcomer into the community; and,

feeling a sense of achievement and belonging from involvement in Civic Engagement activities.
If you are interested in joining the Touchstone course, please contact Fiona Holohan at Age & Opportunity.Fiona.holohan@ageandopportunity.ie 01 8057798 Places on the course are limited and will be allocated on a first come-first served basis. Early application is strongly advised.
More info: UCD in the Community