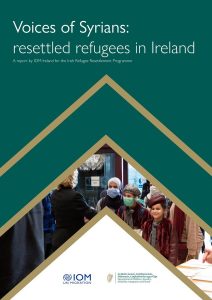 Minister for Children, Equality, Disability, Integration and Youth, Roderic O'Gorman, today published a report entitled 'Voice Of Syrians-Resettled Refugees in Ireland'. The report describes the experiences of 153 Syrian refugees who arrived in Ireland between 2015 and 2019 through the Irish Refugee Resettlement Programme.
This report provides invaluable insights into the experiences of resettled Syrian refugees in Ireland in recent years. It achieves this by exploring the perspectives and experiences of the refugees, their hopes and fears about life after the Syrian Arabic Republic, their relationships with family overseas and here in Ireland and their growing relationships with neighbours. The report also examines the challenges and needs that resettled refugees have experienced in Ireland, providing lessons to improve future integration outcomes to the benefit of both Syrian refugees in Ireland, and the communities in which they live.
The report concludes that Syrian refugees have much to offer to Ireland, are committed to the future of their families in Ireland and look forward to the supports which can increase their independence and capacity to contribute to wider society.
Welcoming the announcement, Minister O'Gorman said:
"This report gives voice to refugees and provide important insights for those providing services to those hoping to make a home in Ireland. It is evident from this report that refugees have a wealth of experience to contribute to the Irish State."
Ms Lalini Veerassamy, Chief of Mission of IOM in Ireland also welcomed the report and expressed her thanks to the Irish Refugee Protection Programme (IRPP) as well as the research steering group and Dr Lucy Michael and refugees for their contribution. Ms. Veerassamy commented that:
"'The 'Voices of Syrians' report provides invaluable insights on the experience of resettled Syrian refugees in Ireland and emphasizes on the importance of integration indicators."