The Community Water Development Fund aims to support communities in progressing water related projects and initiatives, delivering benefits locally whilst also helping to meet the objectives of the River Basin Management Plan for Ireland and the wider EU Water Framework Directive.
This fund is open to all community and voluntary groups in the Republic of Ireland to assist in the protection and management of water quality, both locally and in the wider catchment. This can include the development of a catchment partnership or River/Lake Trust, and delivery of local projects to protect and improve water quality in a local waterbody.
This fund will enable communities to get more involved in the stewardship of their local water environment, delivering multiple benefits for present and future generations. The fund is administered by the Local Authority Waters Programme on behalf of the Department of Housing, Local Government and Heritage.
Closing date for applications: Tuesday, 9th February 2021 at 12 Noon.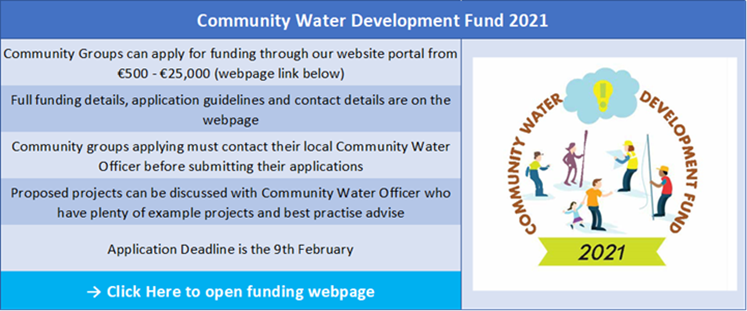 Funding details Webpage –          watersandcommunities.ie/community-water-development-fund/
Funding registration/ Log-on –    community-water-development-fund-grant-application-form-2021
CWDF 2021 Grant Application Form; community groups may utilise this to help filling out the online application form (copying and pasting into the website portal). Note: the online application can be saved as you go.